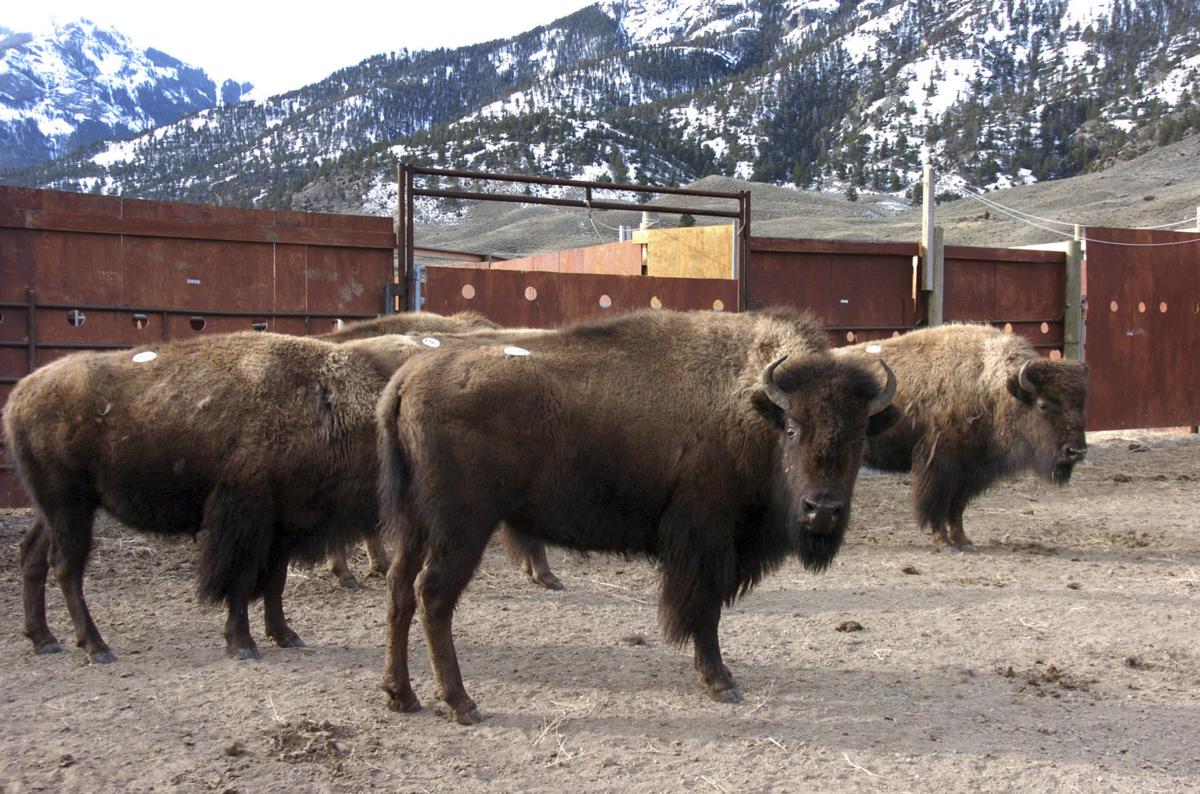 For the second time this year, someone has tried to set bison free from corrals at the northern edge of Yellowstone National Park.
Park officials said in a news release Thursday afternoon that fences at the Stephens Creek Capture Facility were "intentionally compromised" sometime between 9 p.m. Wednesday and 6 a.m. Thursday, allowing 73 of 96 captured bison to escape.
Park spokeswoman Morgan Warthin said 58 bison reentered the corral through the illegal opening, which has been repaired. A total of 81 bison were in captivity Thursday afternoon. The park has begun a criminal investigation into the incident.
It's the second illegal release of bison from the facility in a little more than a month, following the January release of 52 bull bison that were being held for a potential brucellosis quarantine program. A separate criminal investigation into that incident is still ongoing.
Dan Wenk, Yellowstone's superintendent, lamented the latest escape in an emailed statement.
"This act of sabotage, along with the incident that occurred on Jan. 16, is a setback for bison conservation," Wenk said.
The park's release said officials are "reviewing security measures at the facility and will make improvements immediately."
Warthin would not elaborate on how the corrals were opened. She said that information is part of the investigation into the incident.
The 96 bison were trapped at the Stephens Creek Capture Facility last weekend. It was the first group captured this year. The animals were held in a corral on the southern end of the capture facility, which is on the west side of the Yellowstone River near Gardiner, just inside the park boundary.
Some of the captives were headed for slaughter, part of bison managers' annual population reduction efforts. Some were slated for a potential brucellosis quarantine program, a park proposal that's meant to certify bison as brucellosis-free so they can be used to start new herds or augment existing ones.
The park has built special corrals for quarantine. It has yet to receive final approval from state and federal livestock officials.
Some bison advocates oppose the practice, arguing that it domesticates wild animals. Park officials and quarantine supporters view it as a way to reduce the number of animals slaughtered each year.
"Creating a successful quarantine program will allow the transfer of live animals to tribes to develop conservation herds on private lands," Wenk said in the statement. "The saboteurs are only ensuring more bison will be sent to slaughter."
Park biologists last year estimated the bison population at 4,800 animals. A management plan calls for a population of around 3,000.
State and federal wildlife managers hope to cull at least 600 bison this year. Hunters have likely taken around 150 bison, if not more, according to the most recent estimate from Montana Fish, Wildlife and Parks. None have been shipped to slaughter.